It is necessary to have open spaces for dialogue within the telco sector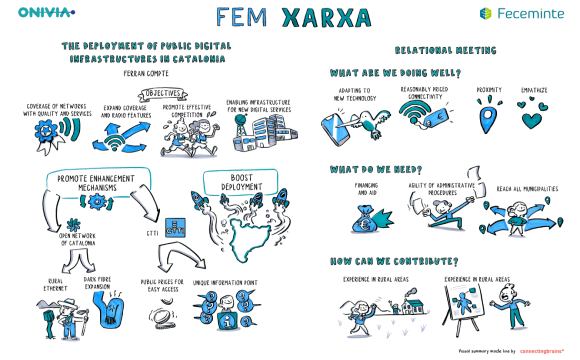 In an increasingly connected world, building bridges between people is one of the challenges we face in the coming years.
In Spain, despite having an optical fiber deployment to the home of 84.9%, there is still a lot of work to be done, especially in rural areas, to achieve the goals of a Gigabit network by 2030.
In this context, it is important to create spaces open to debate where all operators can meet and share best practices in the sector.
For this reason, on December 2, the 1st Meeting of Operators of Catalonia was held by Feceminte, the Catalan Federation of telecommunications companies, with the aim of promoting dialogue between public and private actors.
The meeting was attended by more than 30 regional operators in Catalonia and the Generalitat was represented by Ferrán Compte, ICT infrastructure manager at the Center for Telecommunications and Information Technology (CTTI).
Ferrán Compte presented the latest infrastructure deployment plan for Catalonia with objectives such as expanding coverage and promoting effective skills, as well as enabling infrastructure for new digital services.
ConnectingBrains* was the team in charge of the speed dating, an interactive activity in which there were questions in three rounds to be addressed by tables of 5 participants. The different operators were able to make a personal presentation per table, followed by a presentation of a success story or a good practice, what went well? In this part, ideas such as offering service at competitive prices, providing proximity to their customers and empathizing with their different stakeholders came out.
The last and third round of questions consisted of two parts: one, what do I need as an operator, and two, what do I bring to the sector? As needs, they highlighted financing, more agility in procedures and being able to reach all municipalities.
But the operators also made it clear that what they can clearly contribute to the sector is their experience in rural areas and a good connection with the end customer.
The operators were able to meet in person, being all key players in the sector, establish synergies and create cooperation models.
As ideas to be highlighted, the adaptability of the sector and the personalization of the service, capable of quickly resolving any incident that may arise, took center stage.