2022, "wrapped" Onivia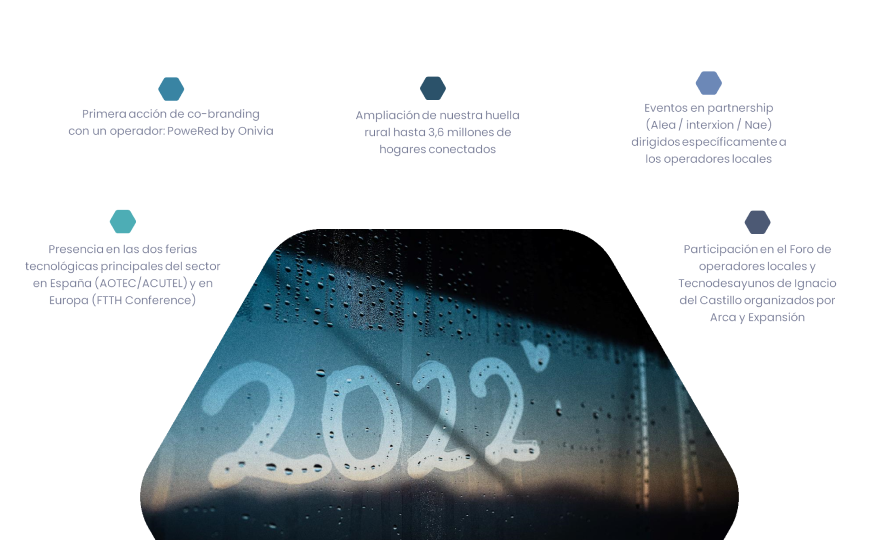 Now that we are only a few days away from the end of the year 2022, we all summarise and take stock of the most important milestones that have taken place. We look back on the activities and events we have organised or participated in and the events that have marked Onivia during these months.
Onivia at the side of the local operator
Since our beginnings, we have always wanted to be at the side of the local operator, accompanying them in the growth of their business, which is also ours, and knowing first-hand what their needs are. For this reason, this year we have participated as guests in several sessions of the Alea operators' conference, in the Redes&Telecom local operators' forum or organised a collaborative workshop to inspire, connect and share challenges, opportunities and ideas with Nae and interxion.
Connecting people
In Spain, the two technology fairs that are meeting points for local operators are AOTEC and ACUTEL. Both are attended by thousands of people every year, making it easier for companies like us to present our new products and meet with our customers. Onivia with its sales team was present at both celebrations.
Expanding our footprint
During this year we started marketing our Impulsa service in the rural footprint and took a big step in our growth plan, expanding coverage in rural and urban communities across the country to provide access to a total of 3.6 million households. This reinforces Onivia's position in the market as the first neutral and independent wholesale fibre optic operator.
Powered by Onivia
We implemented a cobranding campaign with one of our operators connected to the network, giving visibility to both brands and highlighting the main attributes of our fibre network: Tier 1 quality, symmetrical speeds of up to 1 Gbps and 99.50% stability, as a differential value-added element in the offer to the end customer.
Creating a brighter future
Onivia is a member from 2020 of the FTTH Council, the European industry association whose mission is to drive fibre-based connectivity across Europe. At this year's annual conference in Vienna, we were able to share our experiences with wholesale operators from other European countries, and in 2023, with Madrid as the city chosen for the next meeting, we will be hosting them all.
We are Onivia
This year we have incorporated a new shareholder, Arjun Infrastructure Partners, as a long-term investor supporting our business, we have welcomed new colleagues to the team, new partners and clients and we continue to grow and to be excited about our project.
And you, what are you waiting for to join the Onivia network?